Hey, Do you want to grow online? Hi, My name is Suresh & I can help you grow your business 🔍🚀
I am passionate about marketing, technology and entrepreneurship.
I am a digital marketing strategist with over 10 years of experience in helping brands connect with their customers using digital marketing channels.

I love to solve digital marketing and search-related challenges using my marketing skills.
If you are looking for Digital Marketing help, then you should hang out here!

Why Suresh Chaudhary?
Because Even Google Says, I am the best SEO!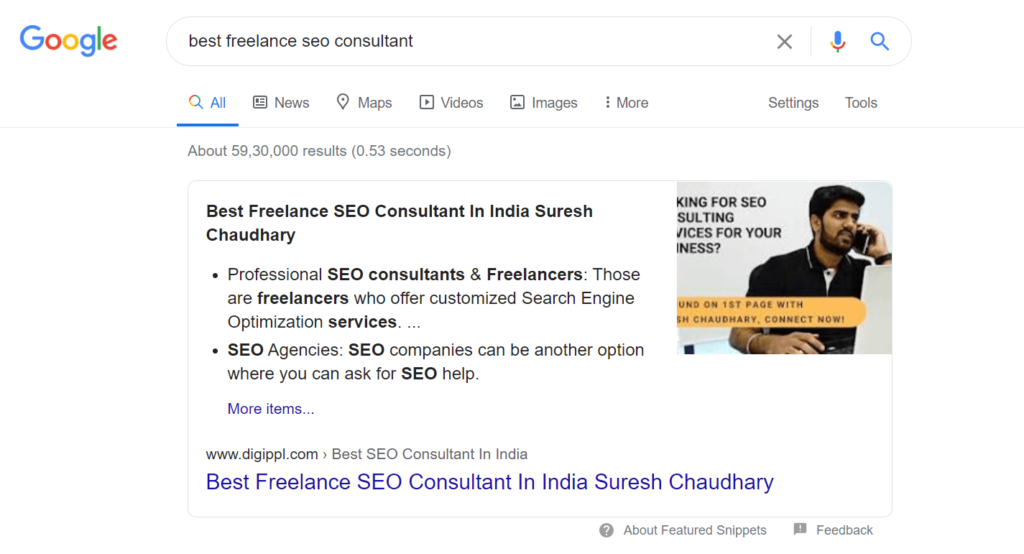 How I Can Help You
Search Engine Optimization Consultant
Suresh Chaudhary can help you with an overall SEO strategy for your brand, starting from Page 1 rankings to appearing in Google's rich results.
Digital Marketing Strategy & Consulting
If you are looking to promote your business using digital channels, then you are at the right place. Suresh has a professional background in marketing.
Website & Content Consulting
Suresh can help you to drive successful results for your company with his website and content consulting services.
performed Digital duties for
My Experience & Focus
Top Rankings
I can help you achieve top search engine rankings using quality white hat SEO techniques. Professional SEO management. Call and get a free SEO audit report today.
Lead Generation
I can help you reach the right audience and generate quality leads for your business using the right digital Ad platform. Call me today if you are looking for quality leads through digital marketing channels.
Content Marketing
I can help you connect, engage and convert your audiences with the latest content marketing techniques used in 2021. Get a free content audit report, Call me today.
Recommendations
Suresh is one very talented digital and SEO professional I have worked with. Very passionate about the goals he wants to conquer and goes after those with focus and determination. It was great to have him in the team and improve our SEO ranks for critical keywords. And equally a fun person to work with. Never a dull moment with him around. All the best to you Suresh.
– Monalisa Sahoo @SterlitePower
Suresh is a very knowledgeable and hardworking colleague and a good team player. His digital skills is very good and is very innovative in his approach. I was impressed with his abilities on project management skills and his delivery oriented attitude. It was a pleasure to work with him and he would prove to be a good asset to any organization that hires him.
– Pawandeep @Edenred